We might all be social distancing and self-quarantining, but NCBA continues! Explore this page for the 10 NCBA 2020 titles, links to read-alouds done by your very own library teachers, and ways to access electronic copies of these, so you can still participate! Also, students are invited to leave their book reviews in the comments box below.
Aru Shah sometimes stretches the truth to fit in at school. One day, three kids show up at Aru's house to catch her in a lie. They don't believe her claim that the Lamp of Bharata is cursed, and they dare Aru to prove it.
Just a quick light,
Aru thinks. Then she can get herself out of this mess and
never ever
fib again. But lighting the lamp has dire consequences. She unwittingly frees the Sleeper, an ancient demon. The only way to stop it is to find the reincarnations of the five legendary Pandava brothers, protagonists of the Hindu epic poem, the
Mahabharata
, and journey through the Kingdom of Death.
Get the eBook or put it on hold here.
Get the eAudiobook or put it on hold here.
It's been five years since Livy and her family have visited Livy's grandmother in Australia. Now that she's back, Livy has the feeling she's forgotten something really, really important about Gran's house. It turns out she's right. Bob, a short, greenish creature dressed in a chicken suit, didn't forget Livy, or her promise. He's been waiting five years for her to come back, hiding in a closet like she told him to. He can't remember who―or what―he is, where he came from, or if he even has a family. But five years ago Livy promised she would help him find his way back home. Now it's time to keep that promise.
Get the eBook or put it on hold here.
Get the eAudiobook or put it on hold here.
Listen to Mrs. King from Lincoln St. Elementary read this title aloud.






Mia Tang has a lot of secrets. # 1: She lives in a motel, not a big house. Each day, while her immigrant parents clean the rooms, 10-year-old Mia manages the front desk of the Calivista Motel.. # 2: Her parents hide immigrants. And if the mean motel owner, Mr. Yao, finds out they've been letting them stay in the empty rooms for free, the Tangs will be doomed. # 3: She wants to be a writer. But how can she when her mom thinks she should stick to math because English is not her first language? Will she be able to hold on to her job, help the immigrants and guests, escape Mr. Yao, and go for her dreams?
Get the eBook or put it on hold
.
Get the eAudiobook or put it on hold.
Visit the Front Desk website for author interview videos, interactive games and links and read the first chapter.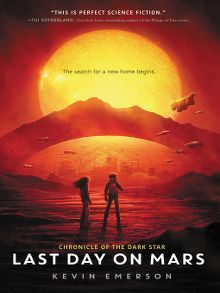 It is Earth year 2213—but, of course, there is no Earth anymore. Liam Saunders-Chang is one of the last humans left on Mars. The son of two scientists who have been racing against time to create technology vital to humanity's survival, Liam, along with his friend Phoebe, will be on the last starliner to depart before Mars, like Earth before it, is destroyed. Or so he thinks. Because before this day is over, Liam and Phoebe will make a series of profound discoveries about the nature of time and space and find out that the human race is just one of many in our universe locked in a dangerous struggle for survival.
Currently not available as an eBook.
Read a sample on the HarperCollins Publishing website.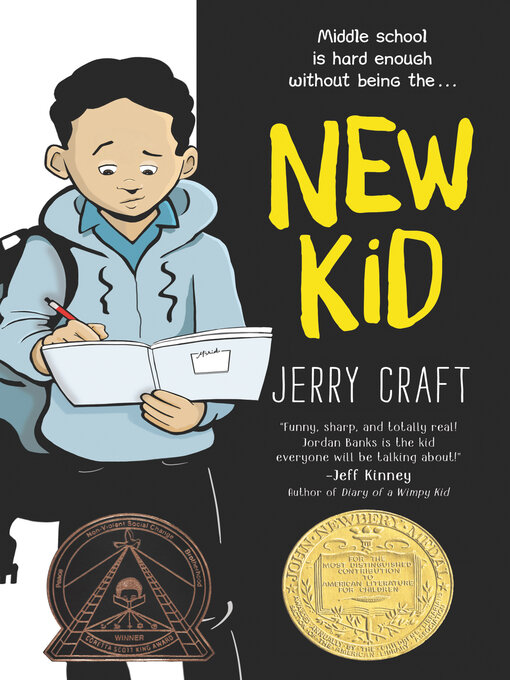 Seventh grader Jordan Banks loves nothing more than drawing cartoons about his life. But instead of sending him to the art school of his dreams, his parents enroll him in a prestigious private school known for its academics, where Jordan is one of the few kids of color in his entire grade. As he makes the daily trip from his Washington Heights apartment to the upscale Riverdale Academy Day School, Jordan soon finds himself torn between two worlds—and not really fitting into either one. Can Jordan learn to navigate his new school culture while keeping his neighborhood friends and staying true to himself?
Get the eBook or put it on hold.
Get the eAudiobook or put it on hold.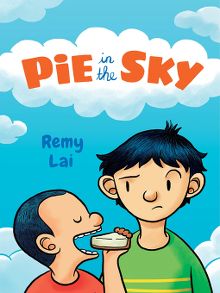 When Jingwen moves to a new country, he feels like he's landed on Mars. School is torture, making friends is impossible since he doesn't speak English, and he's often stuck looking after his (extremely irritating) little brother, Yanghao. To distract himself from the loneliness, Jingwen daydreams about making all the cakes on the menu of Pie in the Sky, the bakery his father had planned to open before he unexpectedly passed away. The only problem is his mother has laid down one major rule: the brothers are not to use the oven while she's at work. As Jingwen and Yanghao bake elaborate cakes, they'll have to cook up elaborate excuses to keep the cake making a secret from Mama.
Get the eBook or put it on hold.
Get the eAudiobook or put it on hold.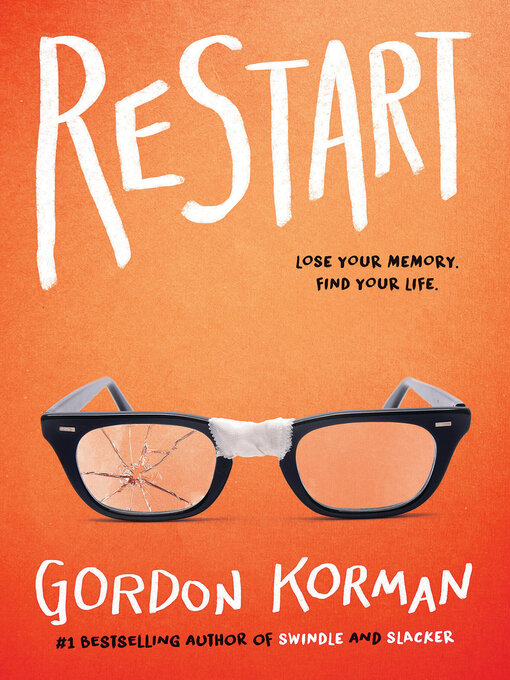 Chase doesn't remember falling off the roof. He doesn't remember hitting his head. He doesn't, in fact, remember anything. He wakes up in a hospital room and suddenly has to learn his whole life all over again, starting with his own name. He knows he's Chase. But who is Chase? When he gets back to school, he sees that different kids have very different reactions to his return. Some kids treat him like a hero. Some kids are clearly afraid of him. One girl in particular is so angry with him that she pours her frozen yogurt on his head the first chance she gets. Pretty soon, it's not only a question of who Chase is--it's a question of who he was, and who he's going to be.
Get the eBook or put it on hold.
Get the eAudiobook or put it on hold.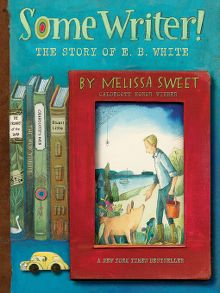 Caldecott Honor winner Sweet mixes White's personal letters, photos, and family ephemera with her own exquisite artwork to tell the story of this American literary icon. Readers young and old will be fascinated and inspired by the journalist, New Yorker contributor, and children's book author who loved words his whole life.
Get the eBook or put it on hold here.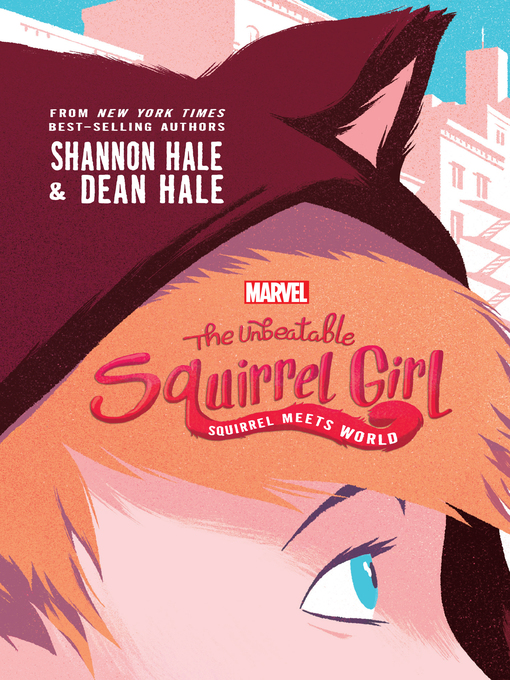 14-year-old Doreen Green moved from California to the suburbs of New Jersey. She must start at a new school, make new friends, and continue to hide her tail. Yep, Doreen has the powers of...a squirrel! Doreen uses her extraordinary powers to stop a group of troublemakers from causing mischief in the neighborhood, and her whole life changes. Everyone at school is talking about it! Doreen contemplates becoming a full-fledged Super Hero. And thus, Squirrel Girl is born! She saves cats from trees, keeps the sidewalks clean, and dissuades vandalism. All is well until a real-life Super Villain steps out of the shadows and declares Squirrel Girl his archenemy. Can Doreen balance being a teenager and a Super Hero? Or will she go...NUTS?
Get the eBook or put it on hold.
Get the eAudiobook or put it on hold.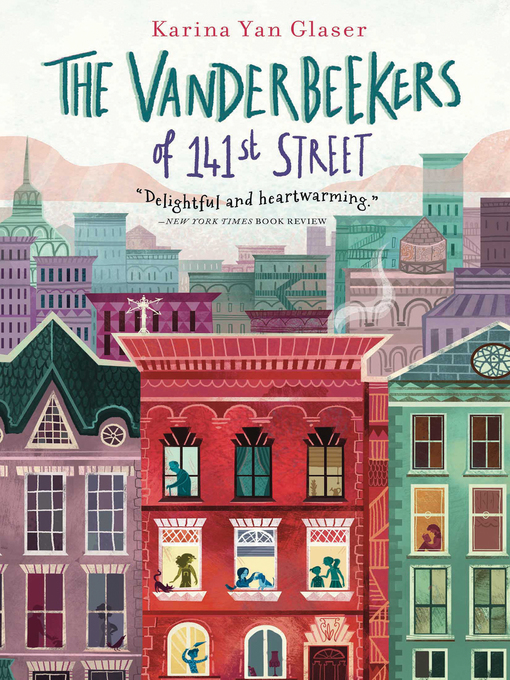 The Vanderbeekers have always lived in the brownstone on 141st Street. It's practically another member of the family. So when their reclusive,curmudgeonly landlord decides not to renew their lease, the five siblings have eleven days to do whatever it takes to stay in their beloved home and convince the dreaded Beiderman just how wonderful they are. And all is fair in love and war when it comes to keeping their home.


Get the eBook or put it on hold.
Get the eAudiobook or put it on hold.
Leave a Book Review below!


Have you read one of the NCBA books? Let your classmates know what you thought of it! Write the title and author and your comment.
---